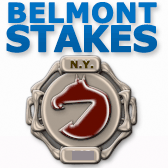 Bet on the Belmont Stakes!
Get in on all the action -
sign up today
.
2022 Belmont Stakes
Where
Elmont, N.Y., at
Belmont Park
When:
19154
Days until the
Belmont Stakes
on Saturday, June 11th, 2022
Watch:
Watch it at 4pm on NBC
Belmont Stakes Traditional Recipes
Horse Racing, the Belmont Stakes and the Triple Crown are all about tradition and food and drinks are no exception. The Kentucky Derby is famous for it's Mint Julep and Hot Browns while the Preakness Stakes is known for its Maryland Crab Cakes and Black Eyed Susans. Every track has their own and here are some of Belmont Park's favorite traditional recipes you might find at the Belmont Stakes in Elmont, New York.


The Belmont Breeze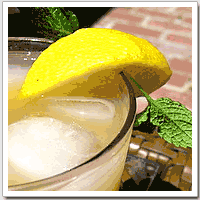 Recipe created by Dale DeGroff, head bartender at Manhattan's Rainbow Room/Windows on the World
Ingredients:

• 1 1/2 ounces Seagram's 7 or a high quality American whiskey
• 3/4 ounces Harveys Bristol Cream Sherry
• 1/2 ounces fresh lemon juice
• 1 ounce Simple Syrup*
• 1 1/2 ounces fresh orange juice
• 1 1/2 ounces cranberry juice
• 7-Up
• Club Soda
Directions:
Shake first six ingredients with ice, then top with half 7-Up and half club soda. Garnish with fresh strawberry, a mint sprig and a lemon wedge.
*Dissolve two cups sugar in one cup water, and boil. The longer water boils, the stronger the syrup.
Braised Short Ribs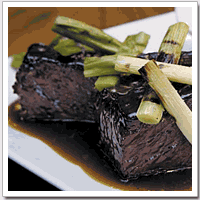 From the James Beard Award-winning cookbook "Think like A Chef" (James Clarkson Potter/Publisher) by Tom Colicchio of Craft and Gramercy Tavern.
Ingredients:

2 tablespoons peanut oil (a healthier neutral oil such as canola oil will do)
Kosher salt and freshly ground black pepper
4 large, meaty beef short ribs (about 4 pounds), cut in half
1 small onion, peeled and chopped
1 carrot, peeled and chopped
1 celery stalk, peeled and chopped
3 garlic cloves, unpeeled
5 sprigs of fresh thyme
8 fresh hot cherry peppers (canned will do)
1/2 cup sherry vinegar
2 to 3 cups chicken stock (the richer the better)
2 sprigs of tarragon
Directions:
1. Heat the oven to 350°F. Heat the oil in a large deep oven-proof skillet over medium-high heat until it shimmers. Salt and pepper the ribs and cook them, in batches, until they are nicely browned on all sides, about 20 minutes.
2. Remove the ribs and add the onion, carrot, celery, garlic, 2 sprigs of the thyme, and salt and pepper to the skillet. Cook, stirring occasionally, until the vegetables begin to soften, about 5 minutes, then add the peppers (if you are using canned peppers, add them with the vegetables in step 4). Continue cooking until the vegetables are tender and browned, 5 to 10 minutes more.
3. Return the ribs to the skillet. Add the vinegar and enough stock to come up the sides but not over the ribs. Bring the braising liquid to a simmer. Add the tarragon and the remaining thyme, then transfer the skillet to the oven and cook at a very gentle simmer (just an occasional bubble) for 1 hour. Turn the ribs and continue cooking until the meat is tender and comes easily away from the bone, about 1 1/2 hours more.
4. Transfer the ribs and vegetables to a plate. Bring the braising liquid to a simmer and skim off the fat. Reduce the liquid slightly (just so it has a little body), then return the ribs and vegetables to the skillet. Simmer just long enough to reheat the ribs, then serve.
Goat Cheese Winner's Purse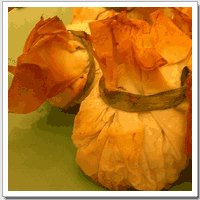 Recipe by Sarah Stegner, The Dining Room, The Ritz Carlton
Ingredients:

4 medium-size plum tomatoes, peeled, cut crosswise into halves, and seeded
1/4 cup of olive oil
salt & pepper
1 package of phyllo dough, thawed
1/2 lb of goat cheese
2 tablespoons finely chopped mixed fresh basil, Italian parsley, and thyme
Directions:
1. Preheat the oven to 180°.
2. Put tomato halves cut sides up in a small, shallow baking dish. Drizzle lightly with some olive oil and season with salt & pepper. Roast until they look slightly dried, about three hours. (Increase the heat to 225° to cut down on time.)
3. Remove tomatoes and increase temperature to 375°.
4. Take one layer of the phyllo and brush it lightly but evenly with olive oil. Place a second sheet on top and repeat with the olive oil. Repeat with a third and fourth sheet. With a long sharp knife, cut the stacked sheets into 4 equal rectangular stacks.
5. In the center of each stack, place two tablespoons of goat cheese. Top with roasted tomato and sprinkle with 3/4 tsp. of herbs. Then, in the same way, add one more layer of cheese tomato & herbs.
6. Fold in either triangles or rectangles. Brush with more olive oil.
7. Place packages on a baking sheet without touching. Bake until phyllo is golden brown and filling is hot and bubbly. 7-10 minutes. Serve immediately.
Hazelnut Macaroons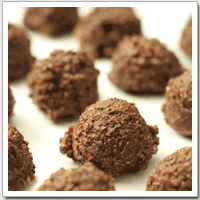 Recipe from StarChef Claire Smith


Ingredients

* 1 1/4 cups lightly toasted hazelnuts
Grind hazelnuts a bit coarser than nut flour.
* 2/3 cup sugar
* Grated zest of 1 lemon
* Pinch of cinnamon
* 2 egg whites
Directions:
Mix all above ingredients together. Whip egg whites to stiff peaks and fold into above ingredients. Place teaspoons full of butter every two inches on parchment paper and bake at 375°F for 12 minutes.