Yonkers Raceway
810 Yonkers Avenue
Yonkers, New York, 10704
USA

(914)-968-4200



---
Racing Dates: 2011-01-13 until 2011-12-23
Number of Racing Days:


---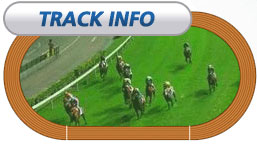 Track Length:
1/2 Mile
Stretch Length:
660 feet
Stretch Width:
Infield Capacity:
Clubhouse Capacity:
7500
Grand Stand Capacity:
Parking Capacity:
12000
Price General Admission:
Price Clubhouse:
$2.25
Price Turf Club:
Yonkers Raceway History
Yonkers Raceway started horseracing in 1899 under the masthead Empire City Trotting Club. After one year of successful operation, the racetrack closed down all racing except a few. During 1907, the racetrack reopened to organize thoroughbred racing that continued till 1942. Due to increasing popularity of harness racing, thoroughbred track was converted to a harness track and the name was changed to Yonkers Raceway.
Previously, Yonkers was the site of the Cane Pace – one of the legs of the Triple Crown of Harness Racing for Pacers while it is now hosting for another leg, the Messenger Stakes. Yonkers Raceway has earned popularity as one of the first harness racetracks of America to host two Triple Crown races on the same day. This racetrack is also home to the Art Rooney Pace for three year olds. 2007 Art Rooney final was the richest race in Yonkers history.
Renovation work started in 2006 to add a new fascia to the racetrack and the work is still going on. After the final phase is over, there will be slots for 5000-car, 120,000 sq feet of space to bring the total number of VLT machines and more facilities. It is estimated that Yonkers will be able to attract nearly thirty thousand visitors a day, compared to meager 700 visitors when racing was suspended in June of 2005.
More About Yonkers Raceway
Live harness racing and simulcasting, video gaming machines, players\' clubs, Empire Terrace Restaurant
How to get there: