Yavapai Downs
10401 Highway 89A
Prescott Valley, Arizona, 86314
USA

(928)-775-8000
(602)-257-9233


---
Racing Dates: 2011-05-28 until 2011-09-06
Number of Racing Days: 60


---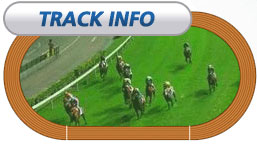 Track Length:
1 Mile
Stretch Length:
1020 feet
Stretch Width:
Infield Capacity:
Clubhouse Capacity:
Grand Stand Capacity:
5000
Parking Capacity:
Price General Admission:
Free
Price Clubhouse:
Price Turf Club:
Yavapai Downs History
Arizona is known for organizing summer horseracing events for a long period. In the past, the racing used to take place in the Prescott Downs. Due to not availability of required space the racetrack was closed down in 2000. And a new site cropped up in the nearby town of Prescott Valley named Yavapai Downs Racetrack. On its grand opening, more than thirty five thousand people gathered on the track. Since the racetrack was inaugurated in 2001, Yavapai Downs Racetrack has been organizing thoroughbred and quarter horseracing meets in every summer.
More About Yavapai Downs
200 acre facility at the base of Mingus Mountains, banquet facilities, multi-purpose indoor area, outdoor area and warm-up rings
How to get there:
From I17, exit Cordes Junction to Hwy 69. In Dewey, turn right on Fain Road to Hwy 89A. Go East on 89A 1 1/2 miles. From Prescott, go North on Hwy 89 to Hwy 89A Junction. Yavapai Downs is 8 1/2 Miles east from the Junction.