Woodbine Thoroughbred
555 Rexdale Blvd.
Toronto, Ontario, M9W 5L2
Canada

1-888-675



---
Racing Dates: 2010-01-01 until 2010-12-29
Number of Racing Days:


---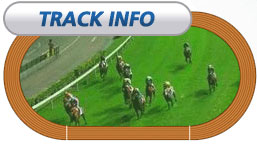 Track Length:
1.5 miles
Stretch Length:
1,440 feet
Stretch Width:
85 Feet
Infield Capacity:
12000
Clubhouse Capacity:
Grand Stand Capacity:
13000
Parking Capacity:
14700
Price General Admission:
Price Clubhouse:
Price Turf Club:
Woodbine Thoroughbred History
Woodbine Thoroughbred is a part of the famed Woodbine Racetrack. The Racetrack was founded by E.P. Taylor and it was opened out on June 12, 1956. The current racetrack is named after the racetrack that was placed in the east Toronto from 1874 to 1993. In the year 1956 the name of the old racetrack was transferred to the new racetrack and both thoroughbred and standard racing were done at the track. The Breeders' Cup was held at this track in the year 1996 while the Arlington Million was held in 1988. This facility is also home to the Canadian Horse Racing Hall of Fame.
More About Woodbine Thoroughbred
Champions Bar & Patio, Finish Line, Willows Dining Room, Hoffbeats Bar and Mohawk for snacks, dining and drinks. There are also gift shops trackside, closed circuit monitors and concesional dining areas.
How to get there:
Woodbine Thoroughbred Racetrack is located at Rexdale which is a city situated near Toronto. The racetrack is placed in the northeastern corner of the city towards the northern part of the City of Etobroke. There are TTC buses available that travel from the Islington Subway Station and drops the passengers near the main entrance of Woodbine on the Bloor-Danforth line. The 191 Hwy 27 Rocket is another mode of travelling. It drops at Queens Plate Drive that is a 5-10 minutes walk from Woodbine. There also buses from Kipling Subway station to Woodbine.