Turfway Park
PO Box 8
Florence, Kentucky, 41022
USA

(800)-733-0200
(859)-371-0200


---
Racing Dates: 2011-01-01 until 2011-04-03
Number of Racing Days:


---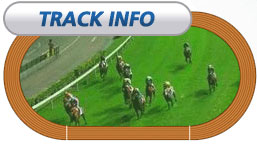 Track Length:
Stretch Length:
Stretch Width:
Infield Capacity:
Clubhouse Capacity:
Grand Stand Capacity:
Parking Capacity:
Price General Admission:
Free
Price Clubhouse:
Price Turf Club:
Turfway Park History
The history of Turfway Park is more than three centuries old. Earlier, races used to take place at the Latonia Race Course that opened in 1883 about 10 miles north of present-day Turfway Park. During 1920s, this racecourse was in full bloom but with time decline of reputation began. After closing down in July 1939, the property was sold to Standard Oil of Ohio and the racing disappeared from Northern Kentucky for two decades. A new Latonia opened in Florence, Kentucky, in August 1959. Initially, the track suffered heavy financial loss but in 1982, the Spiral Stakes attracted the sponsorship of bourbon maker Jim Beam and achieved Grade II status. Jerry Carroll bought Latonia in 1986, renovated it and renamed it Turfway Park. He also introduced the Kentucky Cup Day of Champions, featuring five stake races leading to the Breeders Cup championships in 1994. Carroll sold the property in 1999 to Harrah's Entertainment, GTECH, and the Keeneland Association. In 2005, GTECH sold its interest to the two remaining partners. On September 18, 1982 the track became the first in Kentucky to offer simulcast wagering. On September 9, 1987 Turfway introduced Pick 3 wagering. In September 2005, Turfway introduced Polytrack, a hybrid of synthetic and natural materials that remains consistent regardless of weather and is safer for horses.
More About Turfway Park
How to get there:
Turfway Park is situated off I-75 in Florence, Kentucky and it is just 10 minutes south of Cincinnati, Ohio. It is only an hour north of Lexington that is 90 minutes northeast of Louisville, and just down the road from the Cincinnati/Northern Kentucky International Airport. If you come from the North, you should take I-71/75 south to Exit 182 (Turfway Road). From the end of the ramp, go straight. The ramp meets Thoroughbred Boulevard, which leads directly to Turfway Park's main entrance. To come from the South, you need to take I-71/75 to Exit 182 (Turfway Road), move till you reach at the end of the ramp and turn left onto Turfway Road.