Turf Paradise
1501 W. Bell Road
Phoenix, Arizona, 85023
USA

(602)-942-1101
(602)-789-8873


---
Racing Dates: 2011-01-01 until 2011-05-08
Number of Racing Days:


---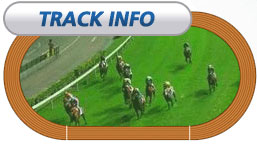 Track Length:
1 mile
Stretch Length:
990 feet
Stretch Width:
Infield Capacity:
Clubhouse Capacity:
Grand Stand Capacity:
Parking Capacity:
Price General Admission:
Price Clubhouse:
Price Turf Club:
Turf Paradise History
In 1954 Phoenix businessman Walter Cluer, purchased 1,400 acres of barren desert at what is now Bell Road and 19th Avenue. Cluer a successful millwork founder and manufacturer, was also a horse owner. Although Cluer's education consisted only of an eighth grade diploma, he had a passion to make a personal dream a reality: Building a first-class race track in Phoenix. On January 7, 1956, Turf Paradise opened its doors and Phoenicians responded by filling every seat and standing shoulder-to-shoulder to welcome pari-mutuel racing to Arizona and the Valley's first sports franchise. In 1989, Turf Paradise's third owner, Robert Walker, purchased and guided the track into yet another new territory: Off Track Betting. What started out as a single OTB site in little Cave Creek (pop. 4,000) in 1991, has now blossomed into over 45 in-state OTB's and over 900 out-of-state locales, located in six different countries. Turf Paradise took on a corporate face when in 1994 the track was purchased in a stock acquisition by California-based Hollywood Park. The new millennium provided Turf Paradise with a new owner in Jerry Simms. Simms immediately set out a $5 million renovation plan designed to enhance the racing experience with a quality dining and entertainment ambience. Both the Clubhouse and Turf Club were completely renovated and re-styled to elegant and comfortable décor. Two race book-style betting carrels, of 80 private terminals each, were added, one in the Clubhouse and the other adjacent to the Turf Club. In addition, Simms had the main track and turf course renovated. Then, in the summer of 2003, Simms had built a $125,000 equine swimming pool, in the stable area of the race track. The 30' x 60' pool is state of the art horse therapy for the over 2,200 thoroughbreds stabled on the backside. Containing over 140,000 gallons of water and 12' deep, the pool accommodates up to six horses at a time. The pool had an immediate effect, not only on equine health but on field size. A Wal-Mart Supercenter and Sam's Club complex, to be called the Turf Paradise Marketplace, will be built on 70-acres at the 19th and 15th Avenues and Bell Road locations. In addition there will be Checker Auto on the site.
More About Turf Paradise
two 90 feet signs for the Turf Paradise Marketplace will include depiction of a miniature racetrack and three metal jockeys, Players' Club, Turf Club, Turf Club Terrace, Directors' Suite
How to get there:
18 miles north of Phoenix Sky Harbor International Airport; about 9 miles east of Sun City; 14 miles northwest of downtown Phoenix; a short drive from Scottsdale and the East Valley region. 1.2 miles East of I-17 on Bell Road to 15th Avenue. Easy access from Hwy-51 just Southeast of Turf Paradise.