Thistledown
21501 Emery Rd.
North Randall, Ohio, 44128
USA

(216)-662-8600
(216)-662-5339


---
Racing Dates: 2011-04-23 until 2011-11-05
Number of Racing Days: 185


---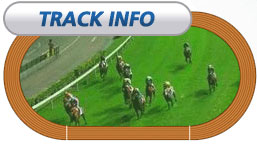 Track Length:
1 mile
Stretch Length:
978 feet
Stretch Width:
Infield Capacity:
Clubhouse Capacity:
Grand Stand Capacity:
Parking Capacity:
Price General Admission:
Free
Price Clubhouse:
Price Turf Club:
Thistledown History
Thistledown Racetrack organised horseracing meet for the first time in 1925. On September 27, 1993, Onion Roll peaked 43.26 mph in this racetrack to spot on the fastest speed by any horse in a single race. It was in 1999, when one of the North America's biggest owners, operators and managers of horseracing tracks - Magna Entertainment, acquired Thistledown Racetrack in November. To increase the Cleveland-area track's stable capacity to 34 barns and 1598 stalls, Thistledown Racetrack backstretch was comprehensively renovated in 2002.
More About Thistledown
Courtyard By Marriott - Independence, Magna, Silks Bistro & Bar, Box Seat with TV, Silks Restaurant, Silks Bistro & Bar
How to get there:
Located 10 miles southeast of downtown Cleveland. One mile west of I-271, two blocks north of I-480 at the intersection of Warrensville and Emery Roads.