Santa Rosa
1350 Bennett Valley Road
Santa Rosa, California, 95403
USA

(916)-263-3340
(916)-263-3349


---
Racing Dates: 2011-07-27 until 2011-08-14
Number of Racing Days:


---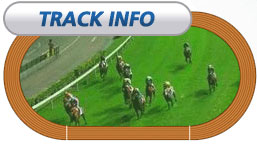 Track Length:
1 Mile
Stretch Length:
Stretch Width:
Infield Capacity:
Clubhouse Capacity:
Grand Stand Capacity:
Parking Capacity:
Price General Admission:
Price Clubhouse:
Price Turf Club:
Santa Rosa History
California fair is considered as the central point for horseracing in California. Since the early days of exploration and settlement, people have come together at certain times of the year to enjoy the festival of a season, the anniversary of a place, or the celebration of a special event. When people came together for these occasions, they used to come on horseback. They came to eat, drink, visit, look around, play, gossiping, making fun... and to see who had the fastest horse. This is the historical legacy of the fairs of California and this is how we still race our horses and where we still have fun.
More About Santa Rosa
Fair, Sonoma County Fair (Santa Rosa); Sonoma County Hilton, Days Inn, Best Western Hillside Inn, Extended Stay America, Fountaingrove Inn
How to get there:
Santa Rosa is situated in California. If you are going to Sonoma County Fairgrounds head towards Santa Rosa by taking Highway 101. Go to Eastbound, Highway 12 which leads to Sonoma. On reaching Downtown leave Highway 12. You will be greeted by a spotlight after reaching Bennet Valley Road. Just by the right hand side is Sonoma County Fairgrounds. If you are driving down from Westbound, take the left turn after reaching spot light. The entrance of Sonoma County Fairgrounds will be in front of you.