River Downs
6301 Kellogg Avenue
Cincinnati, Ohio, 45230
USA

(513)-232-8000
(513)-232-8440


---
Racing Dates: 2011-04-29 until 2011-09-05
Number of Racing Days:


---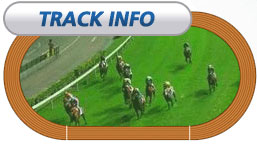 Track Length:
1 Mile
Stretch Length:
Stretch Width:
80 Feet
Infield Capacity:
Clubhouse Capacity:
850
Grand Stand Capacity:
8500
Parking Capacity:
Price General Admission:
Price Clubhouse:
Price Turf Club:
River Downs History
On the inaugural day of River Downs racetrack (Coney Island racetrack) in 1925, a crowd of 10,000 was mesmerized by legendary Black Gold. On the first seven race cards, wagering amounted to $83,000 at River Downs. One million dollars was financed by a group of New York businessmen who were associated with the politically prominent Tammany Hall Group for the construction of that racetrack. The 7-furlong turf course was created in 1956, and it made River Downs the 13th track in America with a grass-racing strip.
On May 17, 1976 Steve Cauthen – one of the world\'s most renowned riders – won the eighth race aboard Red Pipe at River Downs. Construction of new grandstand began immediately at the end of the 1988-racing season. The management of the track tried to keep the style of the traditional open-air grandstand. Wooden benches were replaced by well-spaced stadium seats; a game room was installed next to a new gift shop. Following the 1989 reconstruction of the grandstand, several million dollars were spent in upgrading the Clubhouse.
The track entered into a new era on September 19, 1996, when state legislation finally allowed for Full Card simulcasting to take place in the state. Only months after the renovation of the River Downs Race-Book, the track fell victim to the \'Flood of \'97\'. However, the track lost only 18 days of operation before the upper level of the Race-Book was back in operation.
More About River Downs
VIP Tent Tickets; Group Photo; Box Lunch; Pavilion Picnic: American Grill, Grill Special; Steak Roast; Roast Special; Soft Drink tickets; Alcohol tickets; betting vouchers; Dress Code at Clubhouse: No cutoffs, tank tops, halters, etc. are allowed; reservations are on first-come first-served basis; Accommodation: Holiday Inn, Days Inn, Radisson Hotel Cincinnati, A J\'s Road House.
How to get there:
To come from south, I-75 to 275 east to Kellogg Avenue, follow Coney Island / Riverbend / River Downs exit, east to track. If you come from north, I-75 to 275 east to Kellogg Avenue, follow - Rt. 52 exit, west to track. To come from downtown Cincinnati, I-471 to 275 east to Kellogg Avenue, follow Coney Island / Riverbend / River Downs.