Philadelphia Park
3001 Street Road
Bensalem, Pennsylvania, 19020
USA

(215)-639-9000



---
Racing Dates: 2011-01-01 until 2011-04-16
Number of Racing Days:


---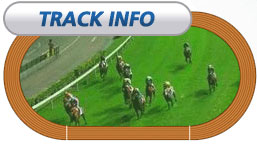 Track Length:
1 Mile
Stretch Length:
974 Feet
Stretch Width:
Infield Capacity:
Clubhouse Capacity:
Grand Stand Capacity:
Parking Capacity:
Price General Admission:
Price Clubhouse:
Price Turf Club:
Philadelphia Park History
Philadelphia Park, a racetrack and casino in Bensalem, Pa., has changed its name to Parx Racing, according to the company's website.
Philadelphia Park, popularly known as Keystone, was established in November of 1974. This park was purchased in 1984 by ITB in exchange of $40 million. After that, the racetrack incorporated a new name and a new turf course was made thereafter. In 1990, the racetrack was taken over by Greenwood Racing Incorporation, a renowned corporation that was founded in 1989 by British bookmaking veterans Bob Green and Bill Hogwood.
Philadelphia Park Racetrack, Turf Club and Phonebet handled over $510,000,000 in 1999, which is the highest in 25-year-old track's history. A second step renovation of the racetrack began in 1999 and that was completed in May of the same year. The entire area transformed into a modern Turf Club with beautiful plush simulcast theaters, dining room, sports bar, horsemen's lounge and a grand entrance made of marble and granite. The Racing Network was formed when Greenwood Racing entered into a partnership with Ontario Jockey Club, Ladbrokes USA, and International Investment and Underwriting Limited. Many famous horses like Shuvee, Gallant Bob, My Juliet, Spectacular Bid, Revidere, Summer Squall, Broad Brush ran to the winner's circle at Philadelphia Park.
More About Philadelphia Park
Amusement: rides, pony rides, face painters, clowns; family carnival; Grandstands: Tele-theater, Handicapping Lounges, Mezzanine Grandstand, Box Seating; Appetizers: Potato Skins, Buffalo Wings, Chicken Fingers, BBQ Skewers, Quesadillas, Cheese Quesadilla, Mini Pretzels, Beef Nachos, Party Platter, Mozzarella Sticks, Sweet Potato Fries, Basket of onion rings; Lite Lunches: Soup Du Jour, Caesar Salad, Asian Chicken Salad, Chili-Bowl, French Onion Soup, Chef Salad, House Salad, Panzanella (bread salad), Soup Du Jour, cup of French Onion, Small Caesar Salad, House Salad, Cup of Chili; Private use: private party, birthday, corporate function or Picnic Grove gathering, reserving pavilions, picnic tables with umbrellas; Host Hotel: Radisson Hotel Philadelphia Northeast; Other Hotels: Holiday Inn Northeast, Courtyard by Marriott, McIntosh Inn, Red Roof Inn, Area Restaurants: Fisher's Tudor House, Chez Nicole, Carrabba's Italian Grill, Casmirri's Restaurant, Club House Diner, Michael's III, Mill Race Inn, Outback Steak House, Steak and ALE, TGI Friday's.
How to get there:
If you want to come from Philadelphia, you need to take I-95 North to Route 132 West (Street Road). Philadelphia Park is about 3 miles on your right. Take Route 1 North (Roosevelt Blvd) to Route 132 East (Street Road). Philadelphia Park is about 2 miles on the left. To come from Allentown, you need to take the NE Extension of the PA Turnpike South to Exit 351 (Old Exit 28). Take Route 1 South to Route 132 East (Street Road). Philadelphia Park is about 2 miles on the left. To come from North Jersey, you need to take the New Jersey Turnpike to exit 6 (PA Turnpike). Take PA Turnpike to Route 1 South to Route 132 East (Street Road). Philadelphia Park is about 2 miles on the left.