Oaklawn Park
P.O. Box 699 2705 Central Avenue
Hot Springs, Arkansas, 71902
USA

(501)-623-1492



---
Racing Dates: 2011-01-14 until 2011-04-16
Number of Racing Days:


---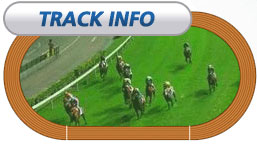 Track Length:
1 Mile
Stretch Length:
1,155 feet
Stretch Width:
Infield Capacity:
Clubhouse Capacity:
Grand Stand Capacity:
Parking Capacity:
Price General Admission:
Price Clubhouse:
Price Turf Club:
Oaklawn Park History
Oaklawn Park organized horseracing events for the first time on February 24, 1905. At that time, the track had only six races a day, just like British cards. In 1907, Oaklawn was forced to close down all races due to political turmoil in the state. Louis Cella bought the track, as the original business partners were all dead. In 1916, the track reopened under the patronage of Business Men's League of Hot Springs. When Louis Cella died, the ownership of the track was handed over to his own brother, Charles. The first Arkansas Derby was run in 1936 for a purse of $5,000.
Unlike most American tracks, Oaklawn remained open in 1944 but World War II caught up with Oaklawn Park and the track was closed in 1945. Just after the Second World War, a major clubhouse renovation and a resurfacing of the track began. In 1961, the track extended the season up to 43 days. The track had a good year and it reached the fifth spot on the list of the most profitable and successful tracks in North America. J. Sweeney Grant, under whom Oaklawn had enjoyed 16 years of remarkable growth died in 1971. W T Bishop replaced him and the track continued to thrive. The Racing Festival of the South was created in 1974. This is a week long festival with only one stakes race everywhere leading the Arkansas Derby.
In 1975, a major renovation was completed and additional 400 box seats and 2500 reserved seats with kitchen and dining room was made. In 1983, the purse for the Arkansas Derby was increased to $250,000. In 1984, the purse was again lifted to $500,000. From 1990, the track was forced to race on Sundays. Though there has been tough competition from casinos in neighboring states and wintertime racing in Louisiana, Florida, California, Kentucky and New York, Oaklawn Park has continued to do well in Arkansas for the last fifteen years.
More About Oaklawn Park
Beautiful Hot Springs; National Park; fishing, hiking; arts; Hot Springs Oaklawn Club Dress Code: Gentlemen - Suit or sport coat; no jeans or tennis shoes;Carousel buffet featuring hand-carved corned beef and roast beef, soup du jour, daily specials, tempting vegetables, garden fresh salads, and Chef's dessert of the day; delightful appetizers, garden fresh salads and sandwiches; whiskey; sauce; Hot Springs National Park: classic hotels, Victorian architecture, world-class art studios, restaurants, nightclubs, unique antiques and collectibles, fine art or souvenir gifts and famed Bathhouse Row.
| Stakes | Grade | Purse | Date |
| --- | --- | --- | --- |
| Dixie Belle Stakes | | $50,000 | January 26 |
| Hot Springs Stakes | | $50,000 | March 22 |
| King Cotton Stakes | | $50,000 | |
| Rebel Stakes | II | $600,000 | March 14 |
| Essex Handicap | | $100,000 | February 07 |
| Southwest Stakes | III | $300,000 | February 16 |
| Bayakoa Stakes | | $100,000 | April 08 |
| Fifth Season Stakes | | $100,000 | April 09 |
| Instant Racing | | $75,000 | April 11 |
| Northern Spur | | $75,000 | April 11 |
How to get there:
Oaklawn Park is situated at 2705 Central Ave, Highway 7, just south of Historic downtown Hot Springs. Centrally located, it is within minutes of most lodging and dining facilities.