Mountaineer Race Track & Gaming Resort
Route 2
Chester, West Virginia, 26034
USA

1-(800)-80-40-HOT!



---
Racing Dates: 2011-03-01 until 2011-12-23
Number of Racing Days:


---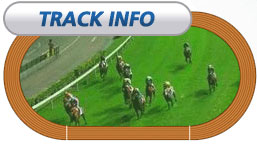 Track Length:
1 1/8 Miles
Stretch Length:
Stretch Width:
Infield Capacity:
Clubhouse Capacity:
Grand Stand Capacity:
Parking Capacity:
Price General Admission:
Price Clubhouse:
Price Turf Club:
Mountaineer Race Track & Gaming Resort History
The name Mountaineer Race Track track exsisted long before it was named Mountaineer. The track was known as Waterford Park prior to 1990. The track was authorized to have slot machines and installed them in 1994.With the revenue that a casino of 3,200 slots and a hotel resort provides, the Mountaineer Gaming Group, the owners of Mountaineer are able to offer handsome purses.
More About Mountaineer Race Track & Gaming Resort
spa, entertainment, golf, shopping, The Grande Hotel At Mountaineer
How to get there:
From Pittsburgh, PA Take the Parkway West out of Pittsburgh • Take Route 22/30 West (Continue on Route 22 West) • Follow Route 22 West to Weirton WV • Take exit 2 (Route 2 North) into downtown Weirton Follow Route 2 North 15 miles to Mountaineer From Washington, PA Take Route 18 North to Route 22 West • Take Route 22 West to Weirton WV • Take exit 2 (Route 2 North) into downtown Weirton • Follow Route 2 North 15 miles to Mountaineer From Erie, PA Take 90 West to Route 11 South • Follow Route 11 South to Route 30 and take the Chester exit. From Akron, OH Take Route 76 East to I-80 the Canfield/Route 11 South to Route 30 and take the Chester exit. From Columbus, OH Take I-70 East to Zanesville OH • Take Route 22 East into Weirton WV • After crossing the bridge, take Route 2 North exit • Follow Route 2 North 15 miles to Mountaineer From Cincinnati, OH Take 71 North to 270 East • Take 70 East. Take Route 7 North. • Take Route 22 East for .5 miles to exit #2 (Downtown Weirton). • Follow Route 2 North for 15 miles to Mountaineer. From Canton, OH Take Route 30 East to Lisbon OH • Proceed through Lisbon, follow signs to Route 11 South to Route 30 and take the Chester exit. From Toledo, OH Take 90/80 East to Route 11 South • Follow Route 11 South to Route 30 and take the Chester exit. From Cleveland, OH Take the Ohio Turnpike to exit 218 (towards Youngstown OH • Follow I-80 East • Take the Canfield/Route 11 South to Route 30 and take the Chester exit. From Baltimore, MD Take I-70 West to the Pennsylvania Turnpike at Breezewood, PA • Take the Turnpike (I-76) West to the Pittsburgh Interchange (Exit #57) • Take the I-376 Exit West toward Pittsburgh • Follow I-376 West out of Pittsburgh • Take Route 22/30 West to Weirton WV • Take Exit 2 (Route 2 North) into downtown Weirton • Follow Route 2 North 15 miles to Mountaineer From Washington, DC Take I-270 North to Frederick • Take I-70 West to the Pennsylvania Turnpike at Breezewood, PA • Take the Turnpike (I-76) West to the Pittsburgh Interchange (Exit #57) • Take the I-376 Exit West toward Pittsburgh • Follow I-376 West out of Pittsburgh • Take Route 22/30 West to Weirton WV • Take Exit 2 (Route 2 North) into downtown Weirton • Follow Route 2 North 15 miles to Mountaineer From Richmond, VA Take I-95 North toward Washington, DC • Take I-495 North toward Tysons Corner • Take I-270 North to Frederick • Take I-70 West to the Pennsylvania Turnpike at Breezewood, PA • Take the Turnpike (I-76) West to the Pittsburgh Interchange (Exit #57) • Take the I-376 Exit West toward Pittsburgh • Follow I-376 West out of Pittsburgh • Take Route 22/30 West to Weirton WV • Take Exit 2 (Route 2 North) into downtown Weirton • Follow Route 2 North 15 miles to Mountaineer From Charleston, WV Take I-77 North to Cambridge • Take I-70 East toward Wheeling, WV • Take the US 250 West/Bridgeport exit toward Route 7 North • Follow Route 7 North to Steubenville WV • Take Route 22 East to Weirton WVTake exit 2 (Route 2 North) into downtown Weirton • Follow Route 2 North 15 miles to Mountaineer