Maywood Park
8600 W. North Avenue
Melrose Park, Illinois, 60160
USA

(708)-343-4800
(708)-343-2564


---
Racing Dates: 2011-01-06 until 2011-12-30
Number of Racing Days:


---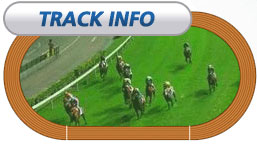 Track Length:
1/2 Mile
Stretch Length:
594 feet
Stretch Width:
77 feet
Infield Capacity:
13900
Clubhouse Capacity:
6000
Grand Stand Capacity:
10847
Parking Capacity:
Price General Admission:
Free
Price Clubhouse:
Price Turf Club:
Maywood Park History
Maywood Park has its harness racing roots back to a time when the racetrack was surrounded by a dense forest. It was originally the home of Cook County Fairground where non-wagering harness racing purse programs used to take place in 1933. The owner, a lawyer in profession, Arthur T. Galt, Sr. established a racetrack at Maywood Park and introduced harness racing at Illinois in 1946. Galt passed away in 1968 leaving his premier half-mile standard racetrack in North America.
Maywood Park has been organizing harness racing meeting for 59 consecutive seasons since 1946. First full harness race program was televised in June of 1947. During 1957, the network had a 15-man crew and three cameras to televise two races. Maywood Park started constructing fireproof steel and concrete barns, fireproof motel type living units and a modern paddock in 1969. World Heavyweight Boxing Champion Muhammad Ali won a seven-furlong fundraising exhibition race at Maywood Park in 1979 and helped Provident Hospital of Chicago.
Maywood Park became only the second one of Chicago to host a prestigious Breeders Crown in 1984. Recognized as one of the fastest-and safest-half-mile racing surfaces in North America, Maywood Park has been the scene of numerous world records, including She\'s A Great Lady\'s 1:51.2 mile in 1995. Maywood Park observed the largest attendance in the track's long history on September 27, 1980, when 20,133 jammed the facility. Many well-known trotters and pacers ran in this historic track.
More About Maywood Park
Free Admission, Racing Program, Meal, Customized Tickets, VIP Photo in Winner\'s Circle, VIP Ride in Maywood Park\'s Starter Car; Private Buffet Packages: The Sulky Club Dinner Package, Windy City Club Package; Indoor Trade Show Facility: available 7 days a week day or night, thousands of square feet available, 25 minutes from Downtown Chicago, seating capacity for thousands, accommodates hundreds of vendors with 10´ x 10´ booths, full service food & beverage, private meeting & banquet rooms, tables & chairs, tiled flooring, lighted parking for thousands of vehicles.
How to get there:
Maywood is situated along busy North Avenue between First and Fifth Avenues, less than 10 miles west of Chicago\'s bustling downtown area, 10 miles south of O\'Hare and 17 miles from the Chicago Loop.