Lone Star Park
1000 Lone Star Parkway
Grand Prairie, Texas, 75050
USA

(972)-263-RACE
(800)-795-RACE


---
Racing Dates: 2011-04-14 until 2011-07-10
Number of Racing Days: 64


---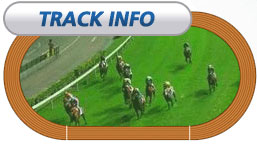 Track Length:
1 Mile
Stretch Length:
Stretch Width:
90 Feet
Infield Capacity:
Clubhouse Capacity:
Grand Stand Capacity:
Parking Capacity:
Price General Admission:
$3.00
Price Clubhouse:
$6.00
Price Turf Club:
Lone Star Park History
Prior to 1987, pari-mutuel wagering in horseracing was banned in Texas. During Lone Star Park's grand opening on April 17, 1997, a huge crowd of nearly twenty-two thousands gathered to wager a historic $1.4 million. Since then wagering has been continuing in full swing in Lone Star Park Racetrack. This racetrack staged the most successful inaugural seasons in the US horseracing history since 1970. It was expanded during November 2002 to provide more facilities to the horsemen and sports lovers. Lone Star Park Racetrack came to the frontline, when it hosted the prestigious Breeders' Cup Championship in October 2004.
More About Lone Star Park
turf track, horse parade path, food and drink concessions, saddling paddock, gift shop, east trackside patio, Winner's Circle, pavilion garden, Champions Banquet Room, terrace seating, silks dining, paddock lounge, Lone Star Jockey Club, Chef's Table, Equine Art Gallery, 32 barns with accommodations for up to 1600 horses
How to get there:
From the central Dallas area: Travel Westbound on Interstate 30, exit Belt Line Road Northbound. Advance 1/4 mile and turn right on Lone Star Parkway to access Gate 4 for preferred parking or Gate 5 for valet parking, or continue on Belt Line Road to Gate 1 for general parking. From the North Dallas area: Travel southbound on Interstate 35. From I-35E South, follow signs.