Laurel Park
PO Box 130
Laurel, Maryland, 20725
USA

1-(301)-725-0400
1-(410)-792-7775


---
Racing Dates: 2011-01-01 until 2011-03-26
Number of Racing Days: 44


---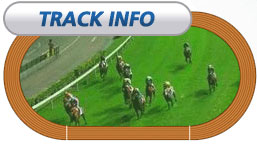 Track Length:
1-mile 600 feet
Stretch Length:
1089 feet
Stretch Width:
92 feet
Infield Capacity:
Clubhouse Capacity:
1216
Grand Stand Capacity:
2964
Parking Capacity:
Price General Admission:
Price Clubhouse:
$3.00
Price Turf Club:
Laurel Park History
Laurel Park was inaugurated on October 2, 1911 under the name Laurel Four County Fair. The Maryland Jockey Club bought this racing track in 1947 and christened it. Laurel had its new clubhouse and turf club in 1953, with the grandstand being remodeled in 1957. To accommodate winter racing, the clubhouse and the grandstand were restructured in 1966. Inter-track wagering was introduced in 1988, with the main entrance, the Grandstand interior and the backstretch barns renovated in 1997. LUK-FLATS, LLC, a Leucadia National Corporation subsidiary purchased a substantial stake in the Laurel racetrack. The Laurel Park backstretch and racing surfaces have been revamped in 2004-2005.
More About Laurel Park
Turf track, Alpha-Numerical Board; American Teletimer Corp. timing system; American Totalisator; United Starting Gate; Video tape patrol closed circuit television, Sunday Brunch, Terrace Dining, The Lounge Bar, The Directors' Room, The Carriage Room, Sunny Jim's, The Ruffian Room, Longshots Bar, Tycoon's Bar
How to get there: