Hoosier Park
4500 Dan Patch Circle
Anderson, Indiana, 46013
USA

(765)-644-0467



---
Racing Dates: 2011-08-02 until 2011-10-23
Number of Racing Days:


---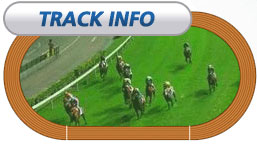 Track Length:
7/8 mile
Stretch Length:
1255 Feet
Stretch Width:
90 Feet
Infield Capacity:
Clubhouse Capacity:
Grand Stand Capacity:
588
Parking Capacity:
1700
Price General Admission:
Free
Price Clubhouse:
$2
Price Turf Club:
Hoosier Park History
It was in 1992, when the decision of opening a racetrack in Anderson, Indiana was granted. This is , in fact, the first racetrack outside Kentucky owned by Churchill Downs since 1939 and eventually in 1994 a contract was signed for construction of the Hoosier Park. Hoosier Park Racetrack opened to a crowd of 7,633 on September 1st 1994.
Off-track betting facility started nearly four months after inauguration of the racetrack at 7610 Broadway in Merrillville. On the eve of its first anniversary, Hoosier Park Racetrack introduced thoroughbred racing meet and a crowd of 5283 turned out to see Minnatoga win the first race. The largest trifecta payoff in history of the track was recorded in 1996 setting $31,775.20 for a $2 ticket. The richest night in the history of quarter horseracing event was recorded on September 21st 2002. The track announced to open four off-track betting facilities in Indiana. The first Indiana Derby was run in this racetrack on October 7, 1995.
More About Hoosier Park
Homestretch Restaurant, contests, giveaways, Abby's Antiques & Collectibles, Anderson Fine Arts Center, Anderson Antique Mall, Anderson/Madison County Visitors & Convention Bureau, Anderson Speedway, Anderson Public Library, Anderson Symphony Orchestra, Dr. Martin Luther King Jr. Memorial, Gruenewald Historic House, The Garden Path, Historic West 8th Street in Anderson, Historical Military Armor Museum, Indian Trails Riverwalk, Mounds State Park, Madison County Historical Society, Paramount Theatre Centre & Ballroom, Reardon Auditorium, Tom Street Clair Studio Glass, Wetland's Nature Preserve.
How to get there:
Hoosier Park is located 20 minutes north of Castleton.