Hawthorne Racecourse
3501 S. Laramie
Stickney/Cicero, Illinois, 60804
USA

(708)-780-3700
(708)-780-7050


---
Racing Dates: 2011-02-11 until 2011-04-30
Number of Racing Days: 115


---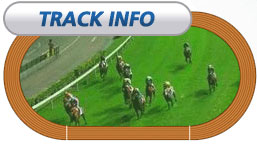 Track Length:
1 Mile, Dirt Oval
Stretch Length:
1,320 Feet
Stretch Width:
75 Feet
Infield Capacity:
35000
Clubhouse Capacity:
Grand Stand Capacity:
Parking Capacity:
Price General Admission:
$3.00
Price Clubhouse:
Price Turf Club:
Hawthorne Racecourse History
On October 20, 1890, Edward Corrigan purchased 119 acres of land in Cicero Township and construction begins on the Hawthorne grandstand. On May 20, 1891, Hawthorne Race Course opened with a five-race card. In May 1909, Corrigan sold the Hawthorne grounds to Thomas Carey. Hawthorne's racing season is expanded to 25 days in 1923, and a new $25,000 dining facility is opened. In 1924, The Chicago Business Men's Racing Association took over the racing operation of Hawthorne and conducted a 52-day meet, and a new clubhouse was built.
A 58-day racing season was begun on July 2, 1925. In 1926, certificate wagering replaced cooperative wagering. On August 27, 1927, the Chicago Juvenile Handicap, now known as the Hawthorne Juvenile was introduced. On September 24, the Autumn Handicap, later known as the Chicago Handicap, was inaugurated. A new clubhouse was inaugurated in 1928. In 1931, Hawthorne became the first major track in USA to use an electrical timer. Also, a new infield tote board was installed in the same year. In 1934, infrared rays were installed as part of an automatic timing device. In the same year, a new paddock was built.
Hawthorne installed a new tote system, American Totalizator in 1938. In 1941, a new dining room on the second floor of the clubhouse and new club boxes were introduced. In July 7, 1947, work began on a new racing strip. In 1948, turf racing returned to Hawthorne after a 44-year absence. New Daily Double machines were installed in 1953, as also, a new pari-mutuel unit was installed, and a new paddock was built. In 1961, an all-new, glass-enclosed, air-conditioned Gold Cup Room was opened. In 1967, seating was increased by 2,500, 17,000.
Harness racing took place for the first time in 1970 at Hawthorne. On May 8, 1976, the first quarter-horse race was run at a pari-mutuel racetrack in Illinois. The Robert F. Carey Memorial Handicap was inaugurated in 1983. On January 15-18, 1994, due to weather-related cancellations, Hawthorne became the first Illinois track to offer full-card simulcasts of out-of-state races. Full-card simulcasting begins on February 4, 1995.
More About Hawthorne Racecourse
Group Events, Championship Suite, Exclusive V.I.P. Room, The Gold Cup Dining Room; Turf Club; Restaurants: Friday's, Connies's Pizza, Buona Beef, Burger King, Ben Pao, Berghoff Restaurant, Bistro 110, Centro, Charlie's Ale House, Chicago Chop House, Chicago Chop House, Friday's, Gibson's Steak House, Gibson's Steak House, Gino's East Pizza, Harry Caray's, Heaven On Seven, Maggiano's, Papagus; Hotels: Carleton of Oak Park, The Oaks Hotel, Wyndham Drake Hotel
How to get there:
10 minutes west of the Loop. Groups are to enter at Gate #4 at 35th & Laramie Avenue.