Evangeline Downs
2235 Creswell Lane Extension
Opelousas, Louisiana, 70570
USA

(866)-472-2466
(337)-594-3166


---
Racing Dates: 2011-04-06 until 2011-09-05
Number of Racing Days:


---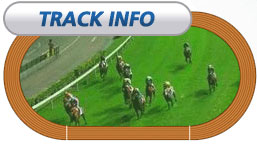 Track Length:
1 Mile
Stretch Length:
400 yards
Stretch Width:
Infield Capacity:
Clubhouse Capacity:
Grand Stand Capacity:
Parking Capacity:
2000
Price General Admission:
Price Clubhouse:
Price Turf Club:
Evangeline Downs History
John Henry won his first stakes at Evangeline Downs, capturing the Lafayette Futurity on September 5, 1977. In 1982, Wild Again, winner of the inaugural $3 million Breeders' Cup Classic, raced at Evangeline Downs in the early stages of his career. In November 1988, Evangeline Downs became sole recipient of the first inter-track wagering signal in the state and started races from the New Orleans Fair Grounds.
On June 3, 2000 Hallowed Dreams was victorious in the Tellike Stakes, winning her 14th consecutive victory, in 14 starts, setting a new American record for consecutive victories by a thoroughbred filly. Many of the world's finest jockeys started their career at Evangeline Downs. The list includes Randy Romero, Eddie Delahoussaye, Ray Sibille, Shane Sellers, Mark Guidry, Curt Bourque, Ronald Ardoin, Calvin Borel, Robbie Albarado, and multiple Eclipse Award winner Kent Desormeaux. Thus, it is aptly called the 'Birthplace of Legends.'
More About Evangeline Downs
Hospitality services for corporate groups, non-profit organizations, private parties, and tour groups; catering and beverage service; full scale event planning and coordination; staffing and Parking facility; free gift offer; entertainment; Restaurants: café 24/7, Blackberry's, Silks dining room, Cajun buffet, Mojo's sports bar, Zydecos; school program, the Blast on the Bayou Rally at Blackham Coliseum, the Opelousas Museum of Art, the St. Landry Parish D.A.R.E. Program, Louisiana State University's Equine Studies Program, the Opelousas Spice and Music Festival. Evangeline Downs continues to assist event organizers by contributing volunteers, time and money to make the community events more successful; 7/8-Mile turf track; grandstand and clubhouse seating for 1450 patrons, apron and patio space for an additional 3000 patrons, stables for 1000 horses.
How to get there:
Evangeline Downs is located off Interstate 49 in Opelousas, Louisiana. Evangeline Downs Racetrack and Casino is situated in Saint Landry Parish minutes east of Opelousas and only 15-minutes north of Lafayette. I-49 from the North and the South. US-190 from the East and the West.