Emerald Downs
2300 Emerald Downs Drive
Auburn, Washington, 98001
USA

(253)-288-7000
(253)-288-7711


---
Racing Dates: 2011-04-08 until 2011-09-25
Number of Racing Days: 91


---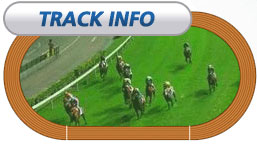 Track Length:
1 Mile
Stretch Length:
990 feet
Stretch Width:
Infield Capacity:
Clubhouse Capacity:
Grand Stand Capacity:
Parking Capacity:
Price General Admission:
Price Clubhouse:
Price Turf Club:
Emerald Downs History
In 1996, Emerald Downs opened to a large enthusiastic crowd. To add more fun and entertainment into horseracing, track of the Emerald Downs was resurfaced in 1997. Within a few years, Longacres Mile Handicap, a Grade III event became Down's biggest racing event. This event was introduced in June 1935 so that Longacres' founder Joe Gottstein could have a signature one-mile race. Longacres was the home of thoroughbred racing in Washington from 1933 to 1992.
Emerald Downs is the longest continually operated track on the West Coast of the United States and is popular for betting. The stakes attracted the owners of a New Orleans horse named Biff, grandson of legendary Man O\' War, who had won $5000 in Chicago.
More About Emerald Downs
Hotels: Courtyard By Marriott, Travelodge Suites, Val-U Inn Motel; banquet and event space; banquet and receptions; meetings; reunions; proms and grad nights.
How to get there:
Traveling South on I-5 you will have to take exit -147 (272nd St) and go east into the valley (approx. 3 miles). Turn right on West Valley Hwy and continue one mile until you reach the 37th Street NW light, turn left. Emerald Downs is 1/2 mile ahead on the right.