Ellis Park Race Course
3300 US Hwy. 41 N
Henderson, Kentucky, 42419
USA

(812)-425-1456
(800)-333-8110


---
Racing Dates: 2011-07-02 until 2011-09-05
Number of Racing Days: 23


---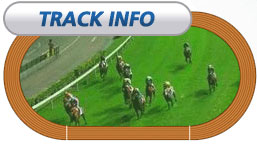 Track Length:
1 1/8 Mile
Stretch Length:
1,175 feet
Stretch Width:
Infield Capacity:
Clubhouse Capacity:
Grand Stand Capacity:
6000
Parking Capacity:
Price General Admission:
$2
Price Clubhouse:
$2
Price Turf Club:
Ellis Park Race Course History
Ellis Park Race Course was built by the Green River Jockey Club in 1922. Initially, harness racing was very popular in this ground but in due course of years, thoroughbred gradually overshadowed the other. On November 10, 1922, a 10-day thoroughbred meet with purses of $62,000 was held. These short horseracing meets didn\\\'t fulfill the increasing demands of sports lovers and the decadence brought in 1925, when the Green River Jockey Club went into bankruptcy.
In 1925, James C. Ellis purchased the track, and named it Dade Park. He changed the name to Ellis Park and brought changes to the track including adding a totalistic wagering system and a terrace grandstand. After his death in 1956, the track was managed by his nephew - Lester E. Yeager. Under Yeager\\\'s patronage a new paddock and jockey\\\'s quarters were built as was a new clubhouse and stable areas. He passed the ownership onto Ruth Adkins in the mid 1960\\\'s.
Adkins was the chief officer of the James C. Ellis estate, which still owns the track, businesses and real estates in Kentucky and Indiana. The track was sold in 1985 to Roger and Lila Kumar. They built a Sky Terrace atop the Grandstand and pushed for the inter-track wagering legislation in Kentucky. They sold the track to the Racing Corporation of America in 1989. The company sold the track to Churchill Downs, which was incorporated in 1998. When a tornado ripped through the area on November 6, 2005, the racetrack suffered extensive damage, as also several racehorses died. On July 17, 2006, Ron Geary, a Kentucky businessman from Churchill Downs, purchased Ellis Park.
More About Ellis Park Race Course
Dining Areas; Sky Theatre (Seats 400); Clubhouse Terrace (Seats 200); Thoroughbred Room (Seats 160); Gardenia Room (Seats 140); Clubhouse Deli: quick and casual breakfast, soups, sandwiches, and plate lunch specials; Thoroughbred Room: daily specials and full menu service; Group Sales Department: discounts, unique packages, blanket presentations, betting packages; Restaurants; Beverages; Handicapped access; Dress code; Artist\\\'s Opportunity for Creating Art At Ellis Park; Lions\\\' Club Tri-Fest; American Cancer Society; Newspaper in Education.
How to get there: