Delta Downs
2717 Delta Downs Drive P.O. Box 175
Vinton, Louisiana, 70668
USA

1-(800)-589-7441



---
Racing Dates: 2011-01-01 until 2011-03-26
Number of Racing Days: 88


---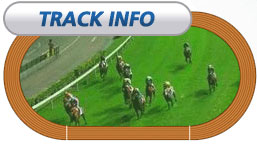 Track Length:
6 furlongs oval, with two chutes
Stretch Length:
660 feet
Stretch Width:
80 feet
Infield Capacity:
Clubhouse Capacity:
Grand Stand Capacity:
Parking Capacity:
Price General Admission:
Price Clubhouse:
Price Turf Club:
Delta Downs History
The track of Delta Downs was established in 1970 to hold low-level quarter and thoroughbred horseracing meets. It is Louisiana's premier racetrack and offers exquisite unique excitement of slot jackpots and casino facilities. During 1990s, Shawn Scott acquired the racetrack against $10 million and shortly thereafter, the track was sold for over $100 million to Boyd Gaming.
Hurricane Rita damaged the Casino hotel and the track badly. After two months, the Casino and Hotel were partly opened but the track was closed for nearly six months after the hurricane.
More About Delta Downs
casino; hotel: smoking and non-smoking floors, spacious bathrooms with stand-alone glass showers, comfortable beds, coffee and Irons, an outdoor swimming pool, online hotel reservation; Double Queen: online reservation; food court restaurants; Down Home Diner; Caffé Siena, Grillers; Fresh Harvest Deli; Triple Crown Buffet; entertainment
| Stakes | Grade | Purse | Date |
| --- | --- | --- | --- |
| Camelia Stakes | | $75,000 | January 03 |
| Cypress Stakes | | $75,000 | January 03 |
| Louisiana Premier Night Championship | | $200,000 | February 07 |
| Louisiana Premier Night Distaff | | $150,000 | February 07 |
| Louisiana Premier Night Prince | | $125,000 | February 07 |
| Louisiana Premier Night Starlet | | $125,000 | February 07 |
| Louisiana Premier Night Matron | | $100,000 | February 07 |
| Louisiana Premier Night Sprint | | $100,000 | February 07 |
| Gold Cup | | $75,000 | March 06 |
| Magnolia Stakes | | $75,000 | March 27 |
| Green Oaks Stakes | II | $75,000 | March 20 |
| Sportsmans Paradise | II | $75,000 | March 20 |
How to get there:
From Texas exit I - 10 at Exit 4, HWY. 109 head towards north and cross over the interstate approximately 2.6 miles then turn right on HWY. 3063