Calder Race Course
21001 N.W. 27th Avenue
Miami, Florida, 33056
USA

(954)-523-4324
(305)-625-1311


---
Racing Dates: 2011-04-25 until 2011-12-31
Number of Racing Days:


---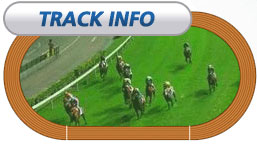 Track Length:
1 Mile
Stretch Length:
990 feet
Stretch Width:
80 feet
Infield Capacity:
Clubhouse Capacity:
Grand Stand Capacity:
Parking Capacity:
Price General Admission:
$2
Price Clubhouse:
$4
Price Turf Club:
$5
Calder Race Course History
Stephen A Calder,a real estate developer, thought to start a summertime racing in Florida during the 1960\\\\\\\'s. The Florida Legislature, on the advice of Mr. Calder, approved a bill allowing it in 1965. A fall meet was held at Tropical Park in Miami, and a spring meet at Gulfstream Park in Broward County during this time.
After receiving a permit for summertime racing in 1970, Stephen Calder organized a meet at Tropical Park. He took initiative in 1970 to start summertime racing at Calder Park in that season. As the construction work at Calder Park was still going on, that horseracing event had to continue at Tropical Park.
On May 6, 1971 Calder Race Course held its first day of summertime racing and from 1972 onwards racing ceased at Tropical Park. Bertram Firestone purchased the land in 1980's followed by Kawasaki Leasings, Inc. By 1997, simulcasting was introduced at Calder Park. Churchill Downs Incorporated purchased Calder Race Course for approximately $86 million in January of 1999.
Calder Park introduced the 'Florida Million' and the 'Summit of Speed'. Calder's Summit of Speed has produced several Breeders' Cup champions and Eclipse award winners since it's start in 2000. Country\\\\\\\'s top sprinters, including Cajun Beat and Orientate took part in Breeders\\\\\\\' Cup Sprint championship races (Orientate 2002, Cajun Beat 2003). In 2005, 'Lost in the Fog' won at Calder, but was later defeated in the Breeders' Cup. In 2004, over $10.8 million was wagered on the event. However, 'Hurricane-Dennis' postpone the '2005 Summit' by a day leading to a drop in handle to $7 million. The unincorporated area of Calder became the City of Miami Gardens in 2003 and made it the third largest city in Miami-Dade County.
Calder opened a card room on the premises in 2004 and it was relocated to Gulfstream Park in 2006. On June 4, 2005, jockey Eddie Castro set the North American record for the most wins in a day at one track, winning 9 races at Calder. Calder hosts Florida Stallion Stakes program, which had record nominations that year. The world record for the most spent on a Thoroughbred at sale took place at Calder in 2006 when a two-year-old horse sold for $16 million. The horse was later named The Green Monkey.
More About Calder Race Course
Hotels: Bahia Mar Hotel, Courtyard Marriott in Plantation, Coral Springs Marriott Hotel, Golf Club and Convention Center, Fort Lauderdale Grande Hotel & Yacht Club, Grand Palms Golf and Country Club Resort, Hollywood Beach – Marriott, Hyatt Regency Pier Sixty Six; Junior Jockey Club; Girl Scouts; internship program; Dining: Casual and fine dining in Calder\\\\\\\'s Clubhouse Dining Room or at the private, exclusive Turf Club, Daily Bagel, Cousin Vinnie\\\\\\\'s Pizzeria, Coney Isle, Blinkers, Beer, wine and sodas, Edy\\\\\\\'s Ice Cream Stands, Clubhouse Deli, Clubhouse Dining Room, Turf Club Dining Room, Concession Stands, Taste of Jamaica, The Latin Corner; Paddock and walking ring, Picnic Grove, Game and pool rooms, Flying Colors Sports Bar.
| Stakes | Grade | Purse | Date |
| --- | --- | --- | --- |
| Ambehaving Stakes | | $50,000 | September 07 |
| Band Is Passing Stakes | | | |
| Carry Back Stakes | 2 | 300,000 | July 12 |
| Champali Stakes | | $36,000 | |
| Major Moran Stakes | | $50,000 | |
| Seacliff Stakes | | 55,000 | |
| Princess Rooney Handicap | 1 | 500,000 | July 12 |
| Smile Sprint Handicap | II | 500,000 | July 06 |
| La Prevoyante Handicap | 2 | 200,000 | December 13 |
| Tropical Park Derby | 3 | 100,000 | January 01 |
| Affirmed Stakes | - | $125,000 | August 24 |
How to get there:
If you come from Fort Lauderdale airport (15 miles), you need to take I-595 West, Florida Turnpike South, right lane exit 47 (University Drive), pay toll, follow off-ramp, turn right on University Drive. Calder Drive is the third light, only about a ½ mile from the University exit. If you come from Miami airport (12 miles), you will have to take I-95 North, 826 West (the Palmetto Expressway), 27th Avenue exit and go towards North, go 3 miles and you will find Dolphins Stadium on your right, go two more short blocks, Calder is on your right at Calder Drive. If you come from Hallandale (12 miles), you need to go west on Hallandale Beach Boulevard, it turns into Miramar Parkway, take a left on University Drive, go about 2 miles south, just past the turnpike overpass, you will see El Palacio hotel on the corner of county line road (NW 215th) and University Drive. Continue south on University Drive for about a 1/2 mile through three short lights. Calder Drive is on your left. To come from Aventura (12 miles), you need to go west on Miami Gardens Drive, take a right (North) onto NW 27th Avenue, 2 blocks north of Dolphins Stadium; you will see Calder on your right. If you pass county line road/NW 215th with the El Palacio hotel on the corner, you will have just passed the entrance. To come from North Broward/Palm Beaches, you need to take Florida Turnpike South or I-95 South then follow Ft. Lauderdale airport directions above. Follow Miami airport directions to come from South Miami-Dade. To come from Homestead, follow Florida Turnpike North, University exit, right, then 2nd left.