Cal Expo
1600 Exposition Blvd. Capitol Racing LLC / P.O. Box 255069
Sacramento, California, 95815
USA

(916)-263-3114
(916)-263-3030


---
Racing Dates: 2011-01-01 until 2011-06-18
Number of Racing Days:


---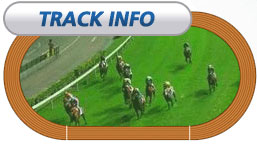 Track Length:
Stretch Length:
990 feet
Stretch Width:
80 feet
Infield Capacity:
Clubhouse Capacity:
634
Grand Stand Capacity:
6200
Parking Capacity:
5000
Price General Admission:
$3
Price Clubhouse:
$3
Price Turf Club:
$3
Cal Expo History
The Californian Exposition and State Fair grounds in Sacramento that is popularly known as Cal Expo, organizes the only harness racing in California. The racing ground is about 356 acres and is situated very near to the American River. This racetrack generally holds harness racing from January to July and again from July to December. More than nine hundred horses compete at Cal Expo every year.
More About Cal Expo
Cal Expo is one of the most beautiful horse racing tracks in the United States. You can enjoy here the five star hospitality and delicious dining from diversified unique range from casual to elegant. Special guests are entertained with gifts – t-shirts, betting programs, betting cards and more. Part from horseracing, splash of entertainment can easily be gained through other sporting events. Flat screen television sets along with hi-fi stereophonic sound system at the clubhouse will impel you extracting enjoyment out of harness racing.
How to get there: