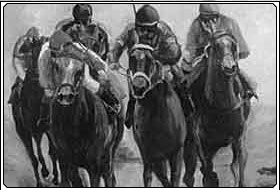 Bob Black Jack
Trainer:Kasparoff
Owner: Harmon & Kasparoff
Foaling Date: -
Pedigree: Stormy Jack and Molly's Prospector of Native Prospector
Dosage: 5-0-3-0-0 (8)
Dosage Index / CD: 4.33 / 1.25 - 5



Notes:

Bob Black Jack came down from the first crop of Stormy Jack that has won eight races of his twenty-one starts. Stormy Cat raced marvelousl y to clinch winning titles at the Oceanside Stakes over a mile on the turf at Del Mar and in the six-furlon g Los Angeles Handicap on the main track. The dam of Bob Black Jack, Molly's Prospector is by Native Prospect. Again, Molly's Prospect is a half sister to the stakes-win ning sprinters What a Spell, Maitlin and Speed Dial. Through analyzing his pedigree, we can assume that Bob Black Jack is dominated by speed and it is hard to expect that he could make a mark in the ensuing long-dista nce Kentucky Derby races. If we consider it's practice matches, we will find that he has potentiali ty giving challenge to other contenders in the Derby.
Statistics

| Year | Races Run | Wins | Place | Show | Earnings |
| --- | --- | --- | --- | --- | --- |
| 2010 | 1 | 1 | - | - | $90,000 |
| 2008 | 6 | 2 | 1 | 1 | $463,500 |