Balmoral Park
26435 S. Dixie Hwy.
Crete, Illinois, 60417
USA

(708)-672-1414
(708)-672-5932


---
Racing Dates: 2011-01-01 until 2011-12-01
Number of Racing Days:


---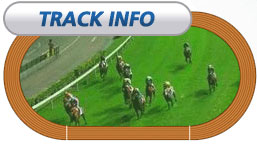 Track Length:
1 Mile
Stretch Length:
1360
Stretch Width:
80
Infield Capacity:
Clubhouse Capacity:
2000
Grand Stand Capacity:
8281
Parking Capacity:
15000
Price General Admission:
Free
Price Clubhouse:
$2.00
Price Turf Club:
Balmoral Park History
In 1925, Colonel Matt J. Winn, manager of Churchill Downs, talked to business associates of the Kentucky Jockey Club, who agreed to buy 1050 acres of land just south of Crete for building a new track named Lincoln Fields. The inaugural meeting at Lincoln Fields began on August 9, 1926 where the first thoroughbred horseman turned trainer Daniel E. Stewart clinched the winning title. He virtually became the trainer for Senator Johnson Camden and president of the Kentucky Jockey Club.
Pari-mutuel wagering was legalized in Illinois on July 1, 1927 but Camera was not in use at the finishing line until August 30, 1936. Due to Second World War restrictions, Lincoln Fields was shut down in 1942 and the horseracing was shifted to Hawthorne from 1943. During renovation work - just before fifty-second session - a wild fire damaged the grandstand of the Lincoln Fields; and the horseracing for that session was destined to shift to Hawthorne.
The name of the racetrack was changed to Balmoral Park in 1955. Balmoral\'s thoroughbred moved to Arlington Park in 1964 and remained there for the next six years. In 1967, William S Miller and his partners purchased Balmoral Park. Miller improved Balmoral\'s thoroughbred track to a half-mile track for organizing harness racing. In 1973, Edward J. DeBartolo Corporation purchased Balmoral Park and converted Balmoral\'s half-mile oval into a 5/8\'s mile racetrack to accommodate both thoroughbred and harness racing.
When a wild fire destroyed the Arlington Park in 1986, a fall thoroughbred meeting began at Balmoral Park from October through December. Billy Johnston and his sons John and Duke sold Balmoral Park to George Steinbrenner's family and a group of local track operators early in 1987. OTB facilities were adopted for the first time in the history of Illinois at the Balmoral racetrack on September 8, 1987. To keep on maintaining undivided Germany's tradition of driving, Balmoral organized North America\'s first World Driving Championship on June 26, 1988.
A new one-mile racing strip was built around the existing 5/8\'s mile oval in the same year. Balmoral Park became a harness racing facility exclusively after the Illinois Racing Board took away its thoroughbred in 1991. Balmoral constructed a new receiving barn and paddock in August 1996 adjacent to the grandstand. Balmoral Park could accommodate 120 horses at that time. On June 10th 2000, Big Tom, an Illinois-bred, lowered the previous track record as the fastest pacer on the one-mile track with a time of 1:49.1.
More About Balmoral Park
Group Parties: bachelor parties, birthday parties, anniversary parties, holiday parties, cocktail receptions, church groups, school groups, fundraisers athletic groups, company outings, business meetings, retirement parties, awards banquets, civic groups, fraternities and sororities, political groups; Balmoral Club Dining Room Packages: food packages, beverage packages; Grandstand and Clubhouse Packages: Grandstand and Lincoln Room Packages, Stable Suites Package; free general parking; reserved seating; official race dedication; all applicable taxes; winners\' circle group photo.
How to get there:
Balmoral Park is situated 12 miles south of the 80/294-94 interchange on 394, the Calumet Expressway S, or route 1, Dixie Highway, about 38 miles from Chicago\'s loop.