Albuquerque Downs
201 California St NE
Albuquerque, New Mexico, 87198
USA

(505)-266-5555
(505)-268-1670


---
Racing Dates: 2011-04-13 until 2011-05-22
Number of Racing Days: 52


---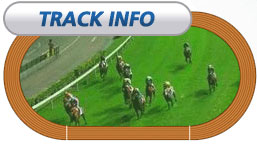 Track Length:
1 Mile, Oval
Stretch Length:
1,114 Feet
Stretch Width:
Infield Capacity:
Clubhouse Capacity:
Grand Stand Capacity:
Parking Capacity:
Price General Admission:
Price Clubhouse:
Price Turf Club:
Albuquerque Downs History
The Albuquerque Downs Racetrack organizes thoroughbred and quarter horseracing meets in each spring and seventeen days of racing during the State Fair in September. The Downs that is featured with 310 slots for casino on eight thousands square feet of land, is a part of the New Mexico State Fair Grounds. However, the Albuquerque Downs Racetrack bears a mellow history of its existence.
In September of 1997, the New Mexico State Fair futurity was dedicated with a special marker at the Downs. The New Mexico State Fair futurity was the oldest American Quarter Horse stakes race started in 1946 and thenceforth has been taking place without any discontinuation. At that time, this race was participated by Mexico-bred American Quarter Horses.
The Fair Commission was planning to keep all actions of the Albuquerque Downs Racetrack out of the competitive bid due to legal barriers in 2003. The State Governor issued a writ to put all such possibilities away and entered into a lease for up to 25 years. In 2004, the Downs took initiative for rebuilding the horse' barn at the Fairgrounds.
More About Albuquerque Downs
Grandstand of the Downs at Albuquerque is exquisitely structured with all the add-on luxurious amenities for extracting real entertainment from horseracing. Over 500 television sets installed in different parts of the grandstand help to get pleasant view from all corners. The Jockey Club, Weekly Specials and Bus Party are some of the attractive areas of the Albuquerque racetrack. At Casino, there are many gaming options available for visitors.
How to get there:
The Downs is located on the Expo New Mexico State Fairgrounds, between Lomas and Central on the north and south, and San Pedro and Lousiana on the west and east. Enter through Gate 3, which is at the intersection of San Pedro and Copper, at a traffic light.